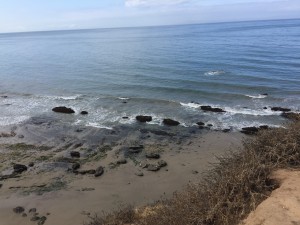 This weekend, I biked the landscape of my youth noting that not much has changed. The trees a little taller, the paths a little worn in, but the bluffs and the endless ocean prove timeless. The big difference, the girlish giggles and comments of delight were not mine this time but those of my daughter and her dear friend.
I saw myself so clearly in her, the accomplished smile when finishing the ride, the scenerio created when pretending to be sisters on a biking adventure rather than best friends, the future plans for another exciting day in the waves after the bike ride ended. I feel so lucky to have the opportunity to relive those cherished moments from my younger days and watch my daughter create her own.
I realize it is always a simple kind of Paradise I seek, laughter with those I love set against the scenic wonders that surround us. Today I will rejoice in the happier moments of yesteryear and capture some fantastic new ones to savor in the years to come.