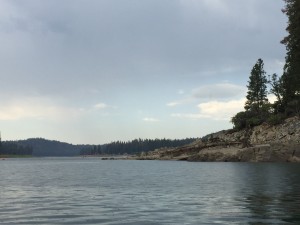 I am watching my daughter and husband explore the shores of the lake, chasing dragonflies and discovering the fun of a summer afternoon. The lake is hot, the water is cool, the company is perfect.
Looking up, the pines and the oaks compete for real estate on the hillsides that surround this beautiful slice of California. The clouds are rolling in with an afternoon thunderstorm to remind all of the visitors who really is in charge. Yes, this is a weekend in God's country!
Paradise can be experienced in so many ways, with so many moments and backgrounds. But it is inescapable when the majestic landscape of God surrounds you. Feelings of good fortune and blessings running through these words today! Hoping you may find some of the same on your summertime journeys in Paradise.