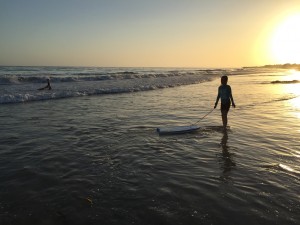 I have spent the day on the sand with my daughter, husband, family and friends. We played in the summer sun without care and concern. Tumbled in waves until shivering then warming up on the shore, the day was the true reflection of summer. It was Paradise.
Thankful beyond explanation for days like this, I now watch the tired, yet content, eyes of my daughter as they slip into sleep. I share a glance with my husband, a confirmation that we have spent the precious time of today wisely, creating laughing memories for our family. A snapshot of summer. A moment of Paradise. An opportunity to define Paradise.
Yes, there are meals to prepare and laundry to sort and life to coordinate. There is sand everywhere and skin may be too pink. But the smiles and appreciation for a slice of time to just play together outweigh all of these distractions. It is a slice of Paradise.