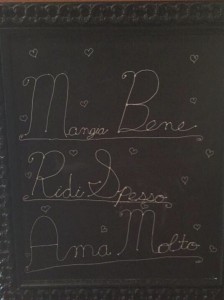 This weekend we dined with great Friends. We started at our house for appetizers and cocktails, walked in the misty evening to another home for dinner, then walked again to savor sweet dessert at another house. With an Italian theme uniting the menus, it was a culinary evening in Paradise!
Each stop of the Progressive Dinner Party included not just zest and spice but laughter and relaxation…the best decor to any table. While we planned for a while, shopped all over, and prepped for this theme focused night, it really had little to do with what was served and everything to do with who sat around the tables. Friends fill Paradise with all the fantastic flavors.
I cherish nights like this, the chance to connect and watch our children layer their memories with playful evenings and smile-filled time together. Thank you my dear Friends, for a progessive Paradise. Looking forward to more evenings when we eat well, laugh often, and love greatly!