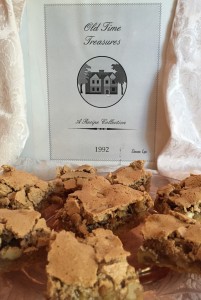 My Grandmother's family owned a bakery in England when she was young. I assure you, she could bake like no other! I LOVED my Grandmother's cooking. She has been gone for many years but the flavors of her recipes are still legendary. My mom and I would sample a delectable treat, only to sigh that, "No, it is not at good as Grandma Marjorie's!"…no matter what the treat may be. She could turn butter and sugar into anyone's Paradise!
Many years ago, my wonderful and wise Aunt and Uncle recognized the importance of preserving her recipes and archived them in an amazing book for each of us. They titled this Old Time Treasures and that is exactly what it contains. Treasures not just of my Grandmother's, but all of the family favorites. It is a gift that I cherish and love to share with my daughter.
Today, at her request, we opened the treasure trove of recipes and made Marjorie Bars. The results are heavenly and I can only hope my Grandmother is smiling down from her kitchen in the heavenly Paradise with pride. Thank you so much to her and my Aunt and Uncle for making sure our Paradise would be delicious forever!
P.S.
To those sensational cooks out there, PLEASE share your kitchen inspired treasures. It will be something your family appreciates for generations!