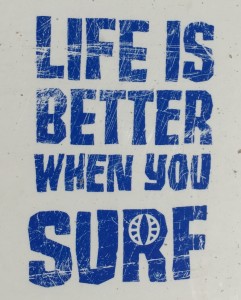 I watch with an anxious heart as she paddles over the break. Driving up, I saw the white caps across the horizon and knew it wasn't going to be an easy morning for her. But she goes for it. She gets rolled, crashes, rides a few, and then smiles on her way back to shore. My mermaid has another day in Paradise.
On shore, she runs to splash and play. She delights in all the sea offers. She clings dearly to her younger cousin as they laugh and jump into the endless playground of the waves.
And when it is time to go, the pleas for just one more wave are as difficult as ever to resist. I, too, want to suspend the moment, capture her as she is today, a strong, smiling, brave, young lady reaching for happiness. May she always have a Paradise and people she loves to grow with and laugh and play! Thank you, darling Daughter, for days together in Paradise!