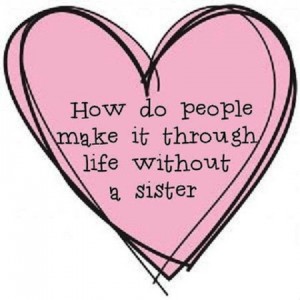 I love my Sister! She is an amazing person, capable of juggling what seems to be a zillion tasks and always has time for me. My world just wouldn't be a Paradise if she wasn't close by!
My Sister makes me laugh…even when she isn't trying. Her honest replies rarely have a coat of sugar making our conversations authentic and hilarious. With her generous spirit and unconditional love, my life has been enriched beyond explanation.
If you are not blessed with a Sister, I sure hope you have found a Sister of the heart, someone to provide the delicate balance of truth and compassion mixed with an abundance of love. As my Sister celebrates another birthday, it is wishes for continued happiness and laughter in Paradise that I send her way!