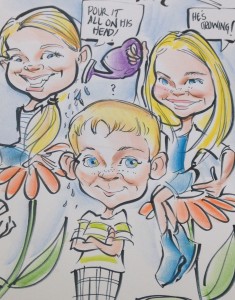 I love this caricature of my daughter, niece, and nephew. They seem to grow overnight and this represents this summer beautifully. A delight to their grandparents, a wonder to their parents, and an endless source of both fun and frustration to each other, they are why my life is Paradise. I enjoy being with them and watching their connection grow stronger each visit…even when the visits seem further apart as the craziness of life interrupts the sanctuary of Paradise.
Having family and family of the heart close by makes even the smallest of occasions something so much more. Over the past week, I have had the great fortune to spend time with people I love and always miss as soon as we depart. You know the people I am referring to, the kind who you may not see for weeks, months, or years at a time but the minute you greet each other, the time in between melts and it is as if you haven't missed a minute in between.
Why is there never enough time to spend with those we enjoy the most? How has another week already slipped by? May this coming week have moments where we can pause and laugh with the people who make our world a Paradise.