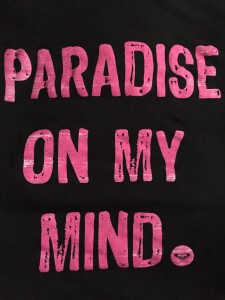 The air is changing to Fall. There are pumpkins everywhere and the hint of the approaching holidays brings excitement and fun to our household. Saw this t-shirt and knew it was time to get ready for Paradise style celebrations.
While the decorations and fanfare certainly add to the festivities, the opportunity to share moments, smiles, and create lasting memories with love-filled traditions are what bring my Paradise to life. I cannot wait for Halloween night candy swap, or Thanksgiving at my Mom and Dad's, or the surprises of Christmas morning. But as the calendar becomes cluttered with other obligations, I know that I must create a balance to maintain the peace this time of year invites.
With holdiay Paradise on my mind, I look forward to the upcoming time with family and friends. There never seems to be enough of that. I always want to pause that too-fast clock, capture the feeling of those days, recall them when the dreary days darken Paradise. May the upcoming season be good to you and your Paradise moments last and last!