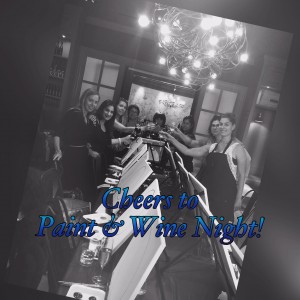 Tonight was a celebration of mothers and daughters. A tradition we started many years ago, this evening was dedicated to laughter, memories, and a love for each other that spans more than four decades. On the adventure of life together, sharing triumphs and sorrows, these Ladies have shown me how to create Paradise.
While the instructor of the Wine and Paint party tried to direct us, we are a STRONG group, with designs of our own in mind. So typical, isn't it? There is always someone to show us how to complete a task, whatever it may be, and we are compelled to shift, pull, and stretch the guidelines to suit our version of Paradise. And I am oh-so-thankful to these Ladies for always reminding me to forge my own path and produce my own Paradise.
I look at our finished products this evening: crooked, crazy, and just a whole lot of fun. We may not have the patience to create exquisite art, but we sure have created exquisite friendships. Ladies, thank you for painting with me a Paradise of love, support, and true beauty!