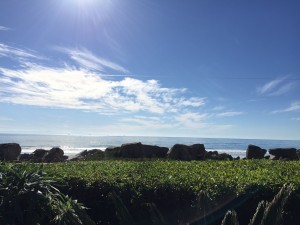 I love seeing the ocean. Even if it is just a shimmer in the distance or the enchanting blue along the highway as we travel, the power and beauty are unparalleled. Today, we escaped the usual routine and filled our morning hours with sunshine and sand. And the start of our week is all the better because of this.
Wandering through shops and walking along the shore, I wanted the hands of the racing clock to slow. I need more time to laugh, to feel carefree, to breathe. I need more time in Paradise. But, we get what we get. And we better appreciate the moments we have, even when it is just a glimpse.
My Paradise today was about taking a break and enjoying the unplanned, adding that extra something that makes our lives rich and satisfying. And when my daughter laughs along the shore and presents me with a heart shaped rock to commemorate the day, I know to celebrate this sparkling glimpse of Paradise.