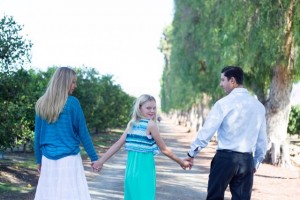 My talented photographer Cousin captured images of my family one breezy Saturday. As we wandered through the peaceful farms near our home, we talked and laughed of family and fun. The shutter on his camera raced to preserve time in my Paradise.
Looking at those images, I clearly see the evidence of the years that have passed, the lines that now crease our once youthful faces and the growth of our baby girl. How did so many years slip by? Did I appreciate them? Did I learn from them to ensure my future years are better?
Of course, I know I will look upon these photographs in 20 years with a wistful eye. I am so thankful he was able to capture my Paradise. The next time you walk down your hall and gaze upon your family photos that hopefully adorn them, smile with appreciation for the love and unity that will forever be remembered!