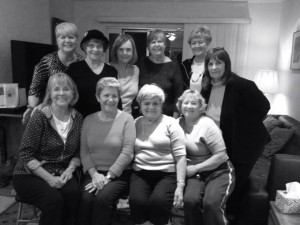 The social media when I was young was not a written statement for all to see, nor was it an image instantly shared. It was a game night our Mothers played once a month. Yes, Monday Bunco Night was when the stories were swapped and the polaroid pictures displayed. After playing together for about 40 years, these Ladies know a thing or ten about sharing life in Paradise.
As a small girl, Bunco night at our home meant decadent delights for my sister and I to sample. And this sugary treat could be devoured in front of the television, a rare opportunity for us. It also meant a time to check in with the Ladies and proudly show how tall we have grown or which teeth we have lost.
As a teenager, any Monday Bunco night meant danger. What stories would the Mothers swap? Would the whole city really find out about why I was grounded for two weeks by Tuesday? Or even worse, would I be grounded again if my Mom found out about what party I was at over the weekend? And did the Mothers really have to share those embarrassing pictures?!?
As an adult, I treasure Bunco night. How lucky am I to have been included my entire life in this dynamic social world? Sitting at one of the three tables as a substitute player, I had the privilege to sample not just the sugary treats, but the amazing life journeys of these accomplished women. They have shown all of us what it means to have a social network where love and support are the goal.
Thank you, Bunco Ladies, for creating this playtime in Paradise. Now it is your grandkids turn to see why these monthly social hours are a special part of life. And know that your children will be forever grateful for the lessons you shared on friendship and fun.