Spending Valentine's Day walking in the surf and admiring the beauty of the coast, I knew, was a moment in Paradise.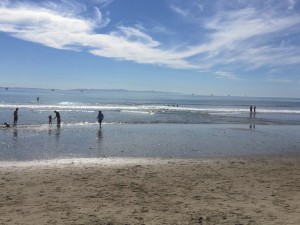 As a long time fan of the beach and all that it offers, I now delight in watching my daughter develop the same appreciation and admiration for this captivating setting. Knowing that with sea, sun, and sand one cannot help but be in love, we decided to spend February 14th enjoying our time together in a place that has long been our family Paradise.
Whether running after waves, creating mermaid sand sculptures, or paddling out to catch a wild ride, my family revels in lingering days at the beach. Lately, my beach days have been spent wandering the shore in search of the sea's gifts. My latest collection includes heart shaped rocks, shells, and sea glass.

Discovering these treasures hiding in the sand with their surprising shapes is yet another reminder to embrace the love that surrounds us.  How lucky we are to be able to wander the shore and have evidence of love and beauty every step of the way?
May the hearts and love you celebrate on Valentine's Day be with you throughout the year, making your Paradise that much sweeter!