My sister and I have a baking contest every year. We bake Pulla, a Finnish coffee bread made with cardamom, in celebration of our Dad's birthday. The results are often both hilarious and delectable.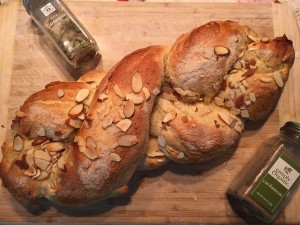 This year's contest, as with every other year, began with my husband absolutely horrified that I was taking over his kitchen. Despite my attentive readings of the many recipies available, this annual bread making process continues to present a challenge. Don't judge, it just does!
Several hours later and at least one ingredient overlooked, we sang a happy birthday and compared the samples. Our Dad, ever the diplomat, complimented both efforts and determined this year to be another successful baking experience. And that is really the best result. Another year, some ingredients more and some less, but still there is laughter and celebration and love. While there are challenges, messes, and things that don't turn out exactly as you planned in life, search for what you enjoy and what makes you smile. When you realize there are ingredients you still need, do your best to incorporate them and find your balance.
May your traditions be tasty and your family gatherings be fantastic and all your moments include hints and flavors of Paradise!
In case you want to try to make Pulla:
http://www.eatpress.com/?p=2207