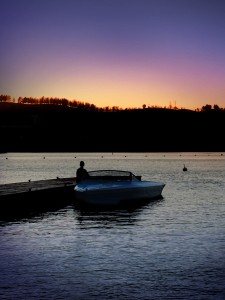 "Not everyone can have a picture of their wife and girlfriend in the same shot!" I explained to my husband when he shared this picture with me. Although I can proudly claim the Wife title, there is no one or nothing dearer to his heart, except his daughter, than a day on the lake…and a day on the lake in his own boat that he tends to like a sweetheart is even better.
His Paradise is on the water. If he has to be on dry land, all the better if there is an engine of sorts in front of him. When we first started dating, I laughingly questioned why every outing required a stop at Home Depot or the auto parts store. Now I know. For him, building, designing, fine-tuning, and listening to the deafening roar of the results is a layer of Parardise.
And although it is not mine, I don't mind sharing the space with a few projects and tools and watching him build his Paradise. Hope you get the chance to support another in their journey towards Paradise, too. And hope you get a chance to enjoy the rewards, a day of leisure and love, where ever that may find you.