After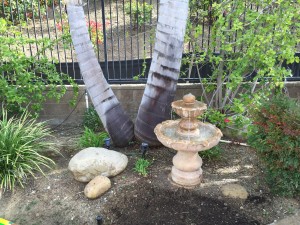 Before
My Mom, an avid green thumb, has a sign in her garden that states, "The Earth laughs in flowers." If that is the case, her yard can rival Disneyland as the happiest place on earth for there are flowers everywhere. I love being in her yard. It's tranquility and beauty force you to stop and appreciate the world around you.
This peaceful Paradise did not happen overnight. She has invested years (and fortunes!) in her Paradise. The time, energy, and financial commitment she makes to creating such a place is admirable. Just ask my Dad. Even he is joining her in this venture with his very own plants this year.
I have garden envy every year and decided to take the plunge this glorious Spring day. So, little by little, I, too, will plant. I will not watch the clock that often nags me to do something else. I will not complain at the end of the day when I am stiff and sore. And I will carry a lighter wallet this season. But there will be laughter in my Paradise!